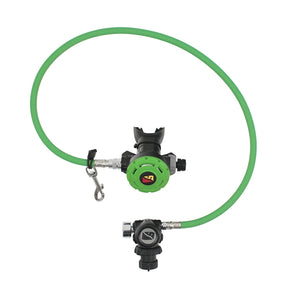 The FT Deco/O2 Regulator Kit is a high-performance option for a deco regulator. Assembled in a clean room using all oxygen compatible materials and lubricants, this deco regulator can be used with higher concentrations of oxygen without the need for additional preparation.
Features
A balanced diaphragm DIN first stage provides excellent performance at deeper depths, making it suitable for a variety of deco mixes. A 1" diameter button gauge allows for easy pressure monitoring while keeping a low profile.
The XT2 second stage is a pneumatically balanced second stage with Venturi assist to provide a consistent gas pressure delivery for smooth inhalation. User adjustability on the second stage lets the divers tune the inhalation setting to match personal preference. An orthodontic mouthpiece reduces jaw fatigue on longer deco obligations. A 40" green low pressure hose and green faceplate on the second stage come standard to indicate oxygen use. A clip is provided to stow the second stage when not in use.
First Stage
Balanced Diaphragm
1″ button guage SPG
4 LP ports
2 HP ports
140 psi IP
1.7 lbs (775.6 g)
Second Stage
Pneumatically Balanced
Venturi assist
40″ green LP hose
Green faceplate
8 oz (226.8 g)
Total weight: 2.57 lbs (1.17 kg)