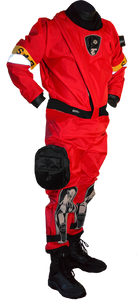 MOSS SAR DRYSUIT
Dive versions
Featuring Captive Suspension Flex panels, the MOSS SAR is all about maximum mobility and comfort! Perfect for SAR teams that require surface or diving drysuits that fit a wide range of divers with optimal mobility.
Features
Patented Captive Suspension Panel around waist for excellent flexibility
400 denier nylon bottom with 210 denier nylon top.
2 pocket Matrix Base Plates & 1 Compak Pocket
Polytex neckseal and bell shaped wrist seals
Air control knee pads
Reflective Armband included (please specify "SAR" or "RESCUE")
Supplied with Multi-Laminate Shell Socks that match perfectly with EVO boots
Includes Internal Suspenders, Inflator Hose, and drysuit bag.
Sizes
2XS, XS, S, SK, M, MT, MK, L, LT, LK, XL, XLK, 2XL, 3XL * KODIAK 360 SAR shown with optional SLT neck ring system, wrist rings, and EVO Boots
Features