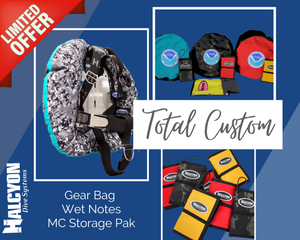 Just in time for the holidays, we are offering a unique promotional package with the ultimate in customization. 
For the first time ever, we are offering full custom packages, including gear bag, wetnotes, and MC storage pak with the newest colors and prints so your customers can get exactly what they want.
Halcyon is fully vested in supporting your customer's personal connection to their equipment and enhancing the joy they experience while pursuing their passion for scuba diving. 
The Total Custom Promo offer is as follows:
Single Tank system ($1700) includes a fully customized diving system with BC, MC storage pak, gear bag, and wetnotes. You can choose a different color for each piece (i.e. wetnotes in Mango, gear bag in Urban Camo. etc.)
Double Tank system ($1200) includes the fully customized BC, MC storage pak, gear bag, and wetnotes. [IMPORTANT!] Excludes the new Legend wing.  
The only way to order this promotional offer is through the Total Custom Package Promotion Form. In light of the holidays, we are running this promotion through the end of the year. If your orders are placed before the 10th of Dec, we can ship your orders by the end of the year.


Please download the form and email back to customerservice@diveseekers.com
Features