YOUR FAVORITE BRANDS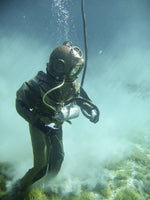 Scuba Diving in Philadelphia
Scuba diving can be a curious and unknown hobby to dive into at first. Between going to dive
school, figuring out where to get scuba certified, navigating what kind of gear you need for the
dives you want to do, and other factors, it may seem like there is a lot involved in getting your
scuba license. However, this is far from the case! Scubadelphia Diveseekers aims to guide you
throughout every stage of the process, so you can put down your copy of "Scuba Diving for
Dummies" and come to one of PA and NJ's most reliable diving schools.
Our History

Scubadelphia Diveseekers originally was two separate dive centers in Philadelphia and New Jersey. Both dive centers aimed to make scuba diving accessible to more people and provide the best brands in scuba gear for competitive prices. Scubadelphia bought Diveseekers, formerly the Scuba Connection, in 2018 to combine the teams, resources, inventory, and time-
honored traditions of both to form one unified family, Scubadelphia Diveseekers.
Scuba Diving Information for Beginners
It doesn't matter if you earned your certification or have never gone scuba diving before; Scubadelphia Diveseekers has information for scuba diving at any experience levels, from beginners to advanced divers.

Our Scuba for Beginners classes act as the perfect entry point for new divers. We utilize a combination of remote learning with PADI E-learning tools, in-pool scuba instruction, and finally, open water dives. Each step of the process ensures that you are ready to dive into the open water and prepared to deal with any potential scenario you may encounter.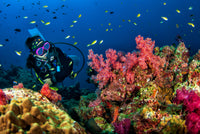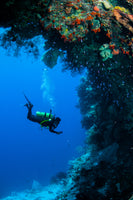 Recreational Dive Planners
Through our diving courses, we give you all the information you might need to be ready for your first dive. This includes familiarizing yourself with resources such as recreational dive planners — also known as scuba diving charts, PADI EDRP dive calculators, or dive tables, which are all used to calculate decompression limit. With these tools, you can safely plan out any future dives once you receive your certification.

Local Diving
Whether you are in the Greater Philadelphia area or parts of New Jersey, including Central Jersey, we have scuba diving schools available for you to participate and get your diving license with. Whether your dives are purely for recreation or you want to delve into diving into wrecks off the NJ coast, Scubadelphia Diveseekers have the gear and training you need to do safely.

Scuba diving experiences in New Jersey range from afternoons snorkeling with the family to deeper diving through wrecks. Wreck divers potentially have more hazards to deal with during dives, whether in New Jersey or elsewhere, and need to have the right equipment and training to keep themselves and other divers safe. This is why learning how to get your dive license is vitally important.