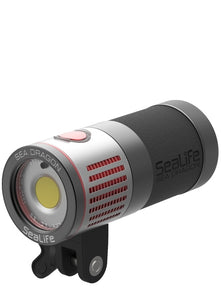 Sea Dragon 4500 Auto UW Photo-Video Light Head (includes YS Mount, battery & charger)
Features
Reveal stunning colors
The Sea Dragon 4500 professional underwater video light delivers 4500 true lumens in a smooth, even 120° wide beam without hotspots. Its unmatched 96 CRI (color rendering index) COB LED array mimics natural sunlight and adds natural brilliance to your videos and stills. The Sea Dragon 4500 is truly a professional's video light with a Television Lighting Consistency Index (TLCI) value of 97, which makes it one of the best performing underwater lights in terms of capturing true and natural colors.
Auto Brightness & Flash Detect Mode
Brightness can be adjusted manually or automatically with its built-in photocell light sensor. The Auto Brightness mode automatically adjusts from 450 to 4500 lumens to preserve your eye's natural night vision while extending battery life. Aim the light at your dive computer or other close-up objects and the light will dim automatically. Aim the light at far away objects for maximum brightness. When a nearby flash fires, the light detects the strobe and will turn off for 1 second for optimal image exposure control. The Auto features can easily be turned off any time underwater.


Powerful 4500 lumen LED light. Latest COB LED array technology
96 (+/-1) CRI (color rendering index) that mimics natural sunlight
Auto Bright mode adjusts from 10% to 100% (450 to 4500 lumens) to preserve your eye's natural night vision and extends battery life
Auto Flash Detect mode. Light turns off for 1 second when detecting external flash
One button control for easy operation. One button to power light on/off and select brightness
Five brightness modes: 100%, 75%, 50%, 25% and Auto mode (10% to 100%)
Hidden emergency signal mode. 1 sec blink interval and SOS Morse code. Push and hold power button for 4 seconds to activate (from off state)
4 hour burn time at 1000 lumens and constant brightness (1 hour burn time at full power)
Easy to expand with YS or Flex-Connect™ mounting system of arms, grips, trays and adapters.
Quick-release button to detach light and aim in crevices and hard to reach areas
120° wide beam angle evenly illuminates the subject with no hot spots.
Depth tested to 330ft (100m)
Corrosion-proof metal light head for heat dispersion and durability
Removable 50W Li-Ion battery w/ charger and international plug adapters included