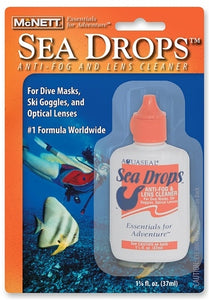 Sea Drops Anti-Fog & Lens Cleaner for Dive Masks


NEW IMPROVED FORMULA! Safe for all glass and plastic lenses-will not harm surrounding silicone or rubber support frames. Sea Drops are designed for maximum dive mask defogging and quick, easy, in-field application. Also excellent for ski goggles, eye glasses, face masks, binoculars and telescopes. Not recommended for swim goggles.
Features
Sea Drops
Directions For Use:
DIVE MASKS: Apply two drops of Sea Drops? to inside and outside of dry lens, rub throughout. Rinse away excess. Do not overapply. Use Sea Buff™ to preclean new masks. SKI MASKS, BINOCULARS, SCOPES, EYEWEAR & SUNGLASSES: Apply Sea Drops, rubbing over entire lens surface. Wait 10 seconds, then buff with soft, dry cloth until clear.
Sea Drops may be used on items such as hockey masks, protective face shields, mirrors, windshields & more. NOT FOR USE ON SWIM GOGGLES: Due to concentration levels, Sea Drops? is not recommended for swim goggles.