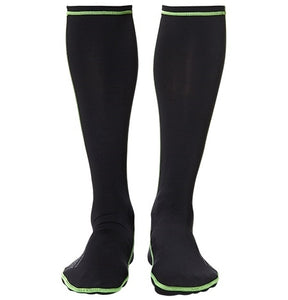 Wetsox Originals Round Toe Black
Features
The Original .5mm footwear that started it all.
It's been said that getting in and out of a wetsuit and boots is the worst part of getting in and out of the water- and well, it's probably true. Enter WETSOX. Our products are designed to get you both INTO and OUT OF your wetsuit and wetsuit boots in seconds by eliminating the friction between you and your gear.
Simply slide on your WETSOX, slip on your gear and get in the water. It's that simple. And if getting INTO your gear easily sounds pretty darn good- just wait until you slip right OUT of your gear after a long cold session. You'll be smiling for sure.
WETSOX ORIGINALS FEATURES:
• Frictionless fabric allows you to slide in or out of any wetsuit or boots easily
• Four-way stretch material that fits your body like a second skin
• Flatlock stitch to avoid 'seem rub'
• Increases the life of your gear
• Works with any wetsuit or boot with no need to size up.