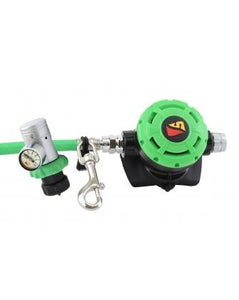 Dive Rite O2 Deco Regulator RG5400
Features
The Dive Rite Oxygen Decompression Regulator is a compact, lightweight option for a deco regulator. Assembled in a clean room using all oxygen compatible materials and lubricants, this shallow water deco regulator can be used with higher concentrations of oxygen without the need for additional preparation.
An unbalanced piston DIN first stage gives ideal performance for a shallow water regulator. An OPV on the first stage provides an additional margin of safety in the event of a first stage failure. A single HP port is used for a 1" diameter button guage.
The XT2 second stage is a pneumatically balanced second stage with Venturi assist to provide a consistent gas pressure delivery for smooth inhalation. User adjustability on the second stage lets the divers tune the inhalation setting to match personal preference. An orthodontic mouthpiece reduces jaw fatigue on longer deco obligations. A 40" green low pressure hose and green faceplate on the second stage come standard to indicate oxygen use.
Note: The Oxygen Deco Regulator is ONLY intended for use as a deco regulator. Do not attempt to use for a stage bottle/travel regulator.
Note: The Oxygen Deco Regulator is not intended for use deeper than 50 ft (15m) on appropriate gas mix.
First Stage:
Unbalanced piston
1" button guage SPG
2 LP ports
1 HP port
140 psi IP
3.5" x 1.25" (8.9cm x 3.2cm)
12.4 oz (351.5 g)
Second Stage:
Pneumatically Balanced
Venturi assist
40" green LP hose
Green faceplate
8.8 oz
Total Weight: 1.64 lb (.75 kg)