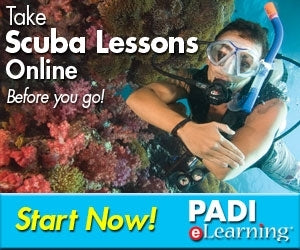 Learning to dive is one of the most rewarding experiences of your life.
Earning your PADI certification will forever change the way you see the
world, both above and below the surface.
PADI Open Water Diver Course
Features
Open Water – Start your Scuba Adventure!

Interested in getting Scuba certified? The Open Water class will get you just that!

Our Open Water Certification course consists of 3 components:

1. elearning sessions

Elearning requires you to click the link below to sign up or contact us for an access code to be simply emailed to you. You will also need to fill out paperwork before heading to the pool. Always remember to add Scubadelphia as your dive center.
2. Confined water pool sessions

Two to three required to cover 40 skills. These do not need to be consecutive dates.
Depending on the time of year, these sessions are either on Saturday or Sunday. Check our schedule for information.
You will need your own quality mask, snorkel, scuba diving fins and booties for this course. – approx. $200.00
3. Open water check-out dives

Four dives need to be completed in open water for certification. They are done locally at Dutch Springs, May through October, over a Saturday and Sunday. – $325.00
A referral can be given to do these dives with a different PADI shop in a different location. – FREE
The dives can also be done on some of our dive trips. Check our trips page for more information. – $175.00 in addition to the cost of the trip

Why Scubadelphia?


Local training in Philadelphia at a PADI 5 Star Instructor Development Center.
Younger, friendly, professional, experienced staff. Most are Master Scuba Diver Trainers.
Competitive pricing and flexible scheduling.
Classes start EVERY week.
We can certify you from beginner through professional instructor and technical diver levels.
Small class size 4:1 student to instructor ratio plus support from dive masters and assistants
Certification in 3-4 weeks instead of 8-12 weeks. We know your time is valuable.
You will complete 4 certification dives to get certified – 2 more dives are offered at no charge!
Free DAN (Divers Alert Network) insurance during your training.
Same low price for traditional classroom or elearning.
Highest quality rental fleet in the area.
Philadelphia Seahorses Dive Club allows you to meet local divers.
Obie and Owen will greet you at the door!

Some things you should know:


Don't procrastinate! Making a safe and competent diver takes more than 1 pool session.
Sign up for class a couple of weeks before you intend to start.
Budget approximately $1000 start to finish for your certification. This is the approximate total for theory tuition+equipment purchases+open water certification dives+PADI fees+Dutch entry fees. Not everything needs to be paid for at once. If another dive center is significantly lower priced there might be a problem.
We can certify divers as young as 10 years old. We can also show you how to care for your child diver in the water.
You must fill out the required paperwork before you get in the pool, including the PADI medical statement.
Private classes are available and offered at an additional cost.
The knowledge development portion of this course is offered in several languages.
Dive instructors should be fun, experienced & dive locally. Our staff are enthusiastic divers.
No egos at Scubadelphia. You are our customer and friend and we want to dive with you.
Visit the dive center to pick up quality gear that's fitted to you for your safety and comfort. Personal dive gear needs to fit and be sized to your needs. Even though well sell basic dive gear on our website it is not recommended to purchase online. We carry much more in store than show on our site. Having the right gear will make you a successful diver. Let our professionals guide you! You will receive a 10% discount on your gear purchase.