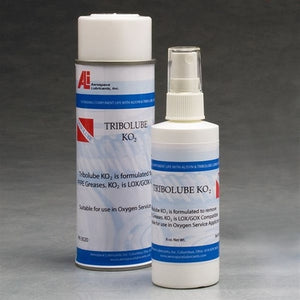 Aerospace Lubricants Tribolube

KO²

solvent cleaner is designed for the removal of PFPE lubricants used in open and closed circuit diving systems. This solvent should be used in conjunction with your standard oxygen cleaning system process.
Tribolube

KO²

Perfluoropolyether Solvent
TRIBOLUBE

KO²


solvent is a low molecular weight Perfluoropolyether (PFPE) designed
for use as a solvent for Perfluoropolyether (PFPE) greases. Tribolube


KO²

is formulated to be compatible and completely miscible with all
PFPE fluids in a wide range of temperatures. In addition to being used
as an excellent solvent, Tribolube

KO²

can also act as a diluent in the
application of more viscous PFPE fluids and greases. Tribolube

KO²

is
LOX/GOX compatible and safe for use in oxygen service applications.
Features
<p>Download PDF</p>
<ul><li><a href="https://cdn.shopify.com/s/files/1/0410/8638/6335/files/MSDS_EPO2.pdf?v=1603395828" target="_blank">Material Safety Data Sheet</a></li>
<li><a href="https://cdn.shopify.com/s/files/1/0410/8638/6335/files/Tech_Tribolube_EPO2.pdf?v=1603395828" target="_blank">Technical Data Sheet</a></li></ul>