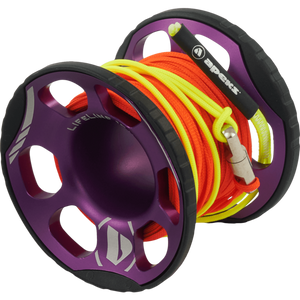 Product description
Much copied but never bettered, we have built on the phenomenal success of the original Apeks Lifeline Spool with an updated model for 2022. With improved ergonomics and functionality, and a reduced weight, the 2022 Lifeline spool is leading the way once more. Inspired by technical diving and versatile enough to be used in a range of diving applications, the Lifeline spool features easy to grip flared sides and a new rubber outer grip to improve deployment and winding. Made from tough anodised aluminium alloy with high visibility line for low light conditions and with a super tough leader and swivel as standard, the Lifeline comes in four sizes and colours and is complimented by a range of line markers and cookies.
Features
Unique flared design to allow ease of winding whilst wearing gloves.
Rubber outer grip makes the spool easier to hold while wearing gloves.
Large, shaped, centre hole allows for easy deployment when wear wet or dry gloves.
Colour coded to allow ease of identification of each size.
High quality, high visibility line.
Rugged construction.
High tensile line leader to avoid damage to main line when 'tying off'.
Line swivel to prevent line entanglement and twisting.
Machined from one piece of aircraft grade aluminium.
Anodised coating.
Spool is not over-wound, enabling additional line to be added if required.
Includes stainless steel bolt snap.
Designed and manufactured in the UK.
Line is sewn instead of tied to increase strength.
Orange line, best for low light conditions.
Easy-release pull straps.
Features