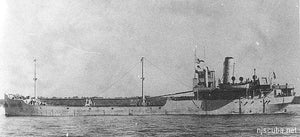 Date: June 9, 2024

Depth: 70'
Dive Boat: Gypsy Blood
Max Divers: 14
2 Dives
Departing from (Use for GPS) 1 Saint Louis Ave, Point Pleasant Beach NJ 08742
Departure Time: 7:00am sharp
Our website keeps track of the available spots, If you can add it to the cart there is a spot available.
They are first come first serve. Putting it in your cart does not hold the space. You must fully checkout.
If any restrictions are added to boat capacities (outside of our control) and we have to reduce the head count we will be cutting from the end of the list.
Features
Maurice Tracy
Type: Collier
Built: 1916
Ashtabula, OHUSA
Specs: ( 253 x 43 ft ) 2468 tons
Sunk: June 17, 1944
Collision w/freighter Jesse Billingsley
43 Crew – 6 Casualties
Depth: 70 ft.
Victim of one of the many wartime collisions, the Maurice Tracy is today a scattered debris field of flattened hull plates and larger pieces, although not as thoroughly demolished as many other wartime wrecks.
The stern of the Tracy is the highest part, with the curve of the fantail still evident. Referring to the picture above, the pilot house is still partially intact, and almost upright, as is the platform for the deck gun, at the extreme rear of the vessel. Between the deck gun and the pilot house is a great deal of semi-collapsed wreckage, with many spaces large enough to squeeze inside of, and inhabited by Blackfish and lobsters. Just aft of the pilot house are the twin boilers, side by side and very large, with open ends.
Forward of the pilot house the wreckage is low-lying, scattered and discontinuous. The debris field is very large, and striking out over the sand ( using a wreck reel ! ) can yield interesting results. The bow probably represents the largest piece here, but there really isn't very much to it. Lobsters especially are more likely to be found in the outlying chunks than in the heavily fished main wreckage.




DiveSeekers is limited to a specific amount divers per charter. Charters do fill up quickly, first come first serve policy. Reservations require full payment for your charter.

If booking more than one month prior to trip your credit card will be charged at the time of booking.

If booking within 30 days you card will not be charged till the day of the trip.

Once you reserve a space you are responsible for the full price of the charter, unless the space can be filled.

* Divers must be Advanced Open Water Certified & must carry a redundant air source.

* Cold water experience required

* Solo Diving is permitted for Recreational Diving only if you hold the proper certification.


Special Note To Divers - Times listed are actual departure times. Hint Hint, to reduce unnecessary stress and anxiety before diving, arrive a half-hour to forty-five minutes prior to departure. If not, the boat will leave without you! Enjoy your dives!!!!