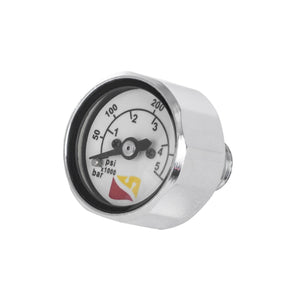 Displaying pressures up to 5000 psi in 1000 psi increments and 350 bar on the same face, our 1-inch Button SPG is ideal for use with pony, Argon and bailout bottles when all you need is an indication of full or empty. A simple white face makes reading pressures easy. 
Fits standard, 7/16-inch high pressure port of any first stage regulator. No hose required. Chrome plated brass with a polycarbonate face resists corrosion and scratches.
NOTE: Remember to pressurize the regulator prior to submerging in water. Otherwise, water can enter the regulator, cause corrosion in the reg and 1-inch Button SPG, which diminishes the life of the SPG. While pressurizing, it is important to look away from the gauge for protection in the unlikely event of a failure.
Features