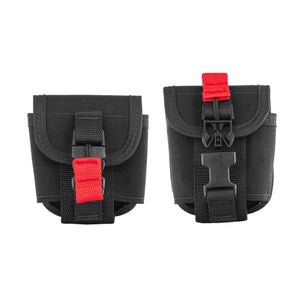 The 12 lb Quick Release (QR) Weight Pocket Set is a simple and streamlined system for ditchable weight. With a capacity up to 12 lbs this set is perfect for warm water divers or divers requiring less weight.  Weight is secured in the pocket using a low-profile 1-inch quick release buckle and a hook-and-loop safety closure. If the diver needs to ditch weight in an emergency, it is quickly released with pull of the red tab. 
The 12 lb QR Weight Pocket Set can be added to any harness with 2-inch webbing, including our TransPac, TransPlate, Basic, and Deluxe harnesses. The pockets attach using two .75 webbing loops. A 2-inch stainless steel slide prevents the pocket from moving once secured.
Pockets are sold as a set, 6 lbs each pocket. Made in the USA.
Capacity: 12 lbs (5.44 kg) set, 6 lb (2.72 kg) per pocket
1680 denier ballistic nylon fabric is tear and abrasion resistant
Closure: 1-inch (2.54 cm) quick release buckle and hook-and-loop safety flap
Two .75 inch ( 1.9 cm) webbing loops slide over 2-inch ( 5 cm) webbing
2-inch (5 cm) stainless steel slide locks pocket in place
Made in the USA
Features