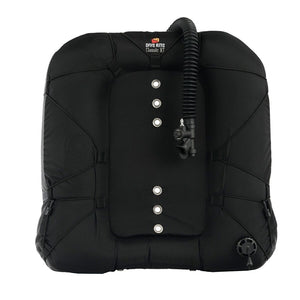 Dive Rite Classic XT Wing
Features
The Classic XT is an adjustable lift wing, sporting an optional Gusset Control System cord that can be used to further streamline the wing for wreck diving penetrations or smaller size doubles. Available in a single or dual bladder, the Classic XT offers 65lbs/27.2kg of lift, accommodating two 104ft3/17L back mounted cylinders and two 80ft3/11L stage bottles. The Classic XT is for use solely with double tanks.
The XT Wing Series is built upon the legendary toughness of SuperFabric® brand technology, a technical fabric resistant to cuts, pinches and abrasions. Created with a base fabric overlaid with tiny guard plates, this proprietary armored surface, along with material science and strategic geometric patterns, transforms ordinary fabric into SuperFabric brand materials. The material maintains its flexibility and breathability, yet keeps sharp objects from penetrating.
Dive Rite has married SuperFabric with a 1000 denier Cordura inner shell to create an armor-clad outerbag that is impervious to damaging pinches and cuts. The XT line's toughness if further enhanced with a heavy-duty, 210 denier nylon laminated bladder.
Backed by our WORRY-FREE LIFETIME GUARANTEE, all Dive Rite wings are made exclusively in the U.S.A.
Black outer bag is made of SuperFabric brand technology and 1000 denier Cordura® offering superior durability.
Inner bladder is constructed from heavy-duty 210 denier nylon laminated bladder which is highly resistant to pinches and punctures.
Urethane flanges are welded in place, which make it easy to switch out corrugated hoses and over pressurization valves without tools
Comes equipped with choice of 16-inch or 12-inch elbow or 16-inch rapid exhaust (pull dump) along with either 15-inch, 22-inch or 27-inch low-pressure inflation hose
Two sets of three marine-grade 316 stainless steel grommet mounting holes are used to attach wing to harness and/or to double tanks and set diver trim
Approximate dimensions uninflated: 24-in H x 26-in W (60.9cm x 66.0cm)
3lbs (1.3kg)