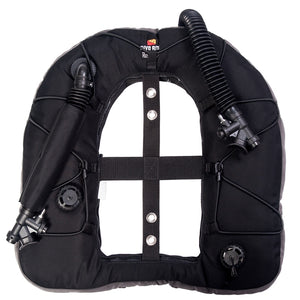 Features
The Rec EXP is the flagship of our innovative line of 360 degree, donut-style wings. Donut wings tend to provide greater stability and control in the water, improving diver buoyancy and trim. The Rec EXP is shorter than our traditional Rec wing, which means it now fits a wider range of diver statures, where as our traditional Rec wing is best suited for tall divers or divers who require more buoyancy at the waist.
A hybrid wing, the Rec EXP can be worn on single or double tanks making it one of our most popular wings. When diving single tanks, two clips on each side of the wing attach to D-rings on the backplate, keeping the wing close to the diver's body. This avoids the "taco" effect of the wing wrapping around the tank, away from the diver, which diminishes buoyancy control.
The Rec EXP can be a single or dual bladder wing. Its unique bladder design allows a single bladder Rec EXP to be altered to become a dual bladder wing at a later date, if desired.
At full lift capacity, the Rec EXP has 50 lbs/ 23kg of lift and can accommodate 95 ft3/15 L back mounted cylinders. The Rec EXP wing is designed for use with the TransPac, Transplate or metal backplates. Available in black with gray side panels. Made in the U.S.A.


Black outer bag is made of 1680 denier ballistic nylon that resists tears and abrasion

Inner bladder constructed of thick, 15-mil polyether aromatic polyurethane is resistant to abrasion and chemicals, has excellent strength and will resist the growth of microorganisms.

Urethane flanges are welded in place, which make it easy to switch out corrugated hoses and over pressurization valves without tools.

Comes equipped with choice of 16-inch rapid exhaust (pull dump), 16-inch or 12-inch elbow along with either 15-inch, 22-inch or 27-inch low pressure inflation hose.

Two sets of two marine-grade 316 stainless steel grommet mounting holes are used to attach wing to harness and/or to double tanks and set diver trim.
Dual bladder version
Dive Rite BCs carry a limited lifetime warranty. Dive Rite will — at its sole discretion — repair or replace BCs proved to be damaged by faulty manufacture or material, at no cost, for the lifetime of the BC. This warranty applies only to the original retail purchaser.
It does not cover commercial or rental use, nor does it extend to units purchased from other than an authorized Dive Rite dealer. This warranty specifically excludes color changes, light fastness, or fading. Dive Rite does not accept responsibility for stains or transference or bleeding of color to other items.
All BC bladders have a limited lifetime warranty against RF welded seam separation. No warranty exists for bladder punctures. If we deem a BC to be beyond repair — through no fault of the user — then, and only then, will we replace the affected component(s).