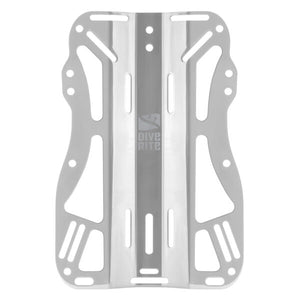 The XT Lite backplate design is based on the original Dive Rite backplates produced since 1984. The lightweight design has evolved to include new features and ergonomics for the modern diver. Laser cut from a thin 14 gauge low carbon, rust resistant 316L stainless steel, the unique shape contours the diver's back while generously rounded corners prevent the plate from digging in or damaging exposure suits. Additional internal cutouts further reduce weight and add to the plate's unique look while still maintaining the support needed for the heaviest double cylinder configurations.  All XT Lite plates are CNC deburred guaranteeing there are no rough or sharp edges that could potentially damage harness webbing. They are then electropolished to a mirror finish and laser engraved to ensure that they look as good as they perform.
The XT backplate is set up with 11" (27.9cm) on-center mounting holes to accommodate standard double tank bolt kits, including two hole positions for the upper bolt providing user adjustability of tank height. Two sets of 2" slots along the center channel allow divers to weave cam straps onto the backplate for single tank diving use without the need for a single tank adapter. Two pairs of holes on side tabs are positioned for use with bungees to be able to sidemount stage bottles. A series of additional holes along the outer edges of the backplate provide different options for mounting lights, pony and suit inflation bottles, lift bags, and other accessories.
2" harness webbing slots are used throughout to accommodate either a Basic, Deluxe or Transplate style harness. 2" (50mm) and 1" (25mm) slots at the bottom center of the plate allow for any crotch strap up to 2" (50mm) in width to be used. Weighing in at 2.61 lbs (1.18 kg), lightweight stainless steel plates are an ideal option for divers who do not need additional ballast weight on their rigs.
14 Gauge low carbon 316L Stainless Steel
Laser cut, CNC deburred edges
Electropolished and Laser Engraved
2.6 lbs (1.18kg)
5″ (26.7cm)(widest point) x 15″ (39.4cm)
25″ (3.2cm) depth (with contour)
In-water buoyancy: -2.5 lbs (-1.13 kg)
Features