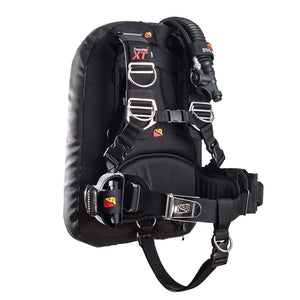 Dive Rite TransPac XT Package w/ Travel XT Wing
Features
Harness
One of Dive Rite's signature products, the Transpac XT leads the way in comfort and durability. Developed by Dive Rite CEO, Lamar Hires, the Transpac XT design was born from expeditions in the remote karst region of Japan. These expeditions required a harness that was rugged and comfortable, both in and out of the water. The Transpac XT uses a true mountaineer backpack design with integrated hip pads, molded foam lumbar support pad, and ergonomic shoulder pads. The Transpac XT is available in sizes XS-XXL, and is also available in sizes specifically for women.
The Transpac XT balances weight across the hips and back, evenly distributing the weight of single or double tanks. The integrated wrap-around hip pads, made of dual density foam, snugly hug the lower back giving critical support and cushioning. Double-foam shoulder pads fit perfectly beneath the two-inch shoulder webbing to give chafe-free comfort. The molded foam lumbar pad is contoured in all the right places with mesh airflow channels for instant draining topside. Chest-support strap provides ideal
load distribution and when used with the removable 1.5-inch crotch strap, provides stability and comfort in the water. Transition plates at the shoulders allow for quick user addition/removal of hardware and finite adjustments. Sizes XS-Med will include one 2" marine-grade stainless steel D-ring on each shoulder, sizes LG-XXL will include two 2" marine-grade stainless steel D-rings on each shoulder. All sizes come standard with one 2" marine-grade stainless steel D-ring on each side of the waist webbing. Dual 2" cam straps with marine-grade stainless steel buckles are positioned to give plenty of head room for easy maneuvering in the water.
The Transpac XT is neutrally buoyant, weighs less than 5lbs (2.29kg), and packs flat for travel.
Soft backplate constructed of 1000 denier ballistic nylon for maximum tear and abrasion resistance
Marine grade stainless sideplates provide custom fit and performance depending on placement at waist
Shoulder straps feature pivot rings at chest level for load distribution and acetyl resin quick release buckles for easy doff and don. Four 2-inch D-rings on each shoulder strap on sizes L-XXL. Sizes XS-M have one 2-inch D-ring per shoulder strap due to space limitations.
Two-inch (50 mm) nylon webbing rated at 7,000 pounds breaking strength forms the shoulder and waist straps.
Dual, 36-inch cam straps with lightweight marine stainless buckles
Grommet mounting holes slide over bolt kit when diving doubles. Stability plates should also be used when diving doubles to protect harness and provide maximum security.
Weight XS:4 lbs 4 oz (1.92kg), Sm:4 lbs 4 oz (1.95kg), Med:4 lbs 8 oz (2.054kg), Lg:4 lbs 12 oz (2.15kg), XL:4 lbs 14 oz (2.20kg), XXL:4.93lb (2.23kg),
Made in the U.S.A.
Wing
A lightweight wing designed for single-tank, warm water diving, our Travel series of wings are small-profile and ideal for travel and divers who wear a minimal amount of weight. At 25lbs/11.3 kg of lift, the Travel can accommodate one 80ft3/12 L tank with no more than 16lbs. of additional weight.
With its donut-shape, the Travel wing provides greater stability and control in the water. Donut-style or 360 degree wings promote an even volume of inflation on top, sides and bottom, which improves buoyancy control and promotes a more efficient, horizontal trim.
SuperFabric® brand technology XT material that creates an armor-clad outer shell that is impervious to damaging pinches and cuts, with a 1680 ballistic nylon diver's side panel. Both the Travel EXP (Model BC 4100) and Travel XT (Model 5100) are further enhanced with a heavy-duty, 210 denier nylon laminated bladder. They are backed by our WORRY-FREE LIFETIME GUARANTEE and are made exclusively in the U.S.A.
Model BC5100 Travel XT outer bag is made of SuperFabric brand technology outer shell and 1680 ballistic nylon diver's side panel.
Inner bladder is constructed from heavy-duty 210 denier nylon laminated bladder which is highly resistant to pinches and punctures
Urethane flanges are welded in place, which make it easy to switch out corrugated hoses and over pressurization valves without tools.
Comes equipped with choice of 16-inch rapid exhaust (pull dump), 16-inch or 12-inch elbow along with either15-inch, 22-inch or 27-inch low pressure inflation hose.
A set of marine-grade 316 stainless steel grommet mounting holes are used to attach wing to harness and/or singles mounting plate.
Approximate dimensions uninflated: 21.5-in H x 15-in W (54.6cm x 38.1cm)
2.4 lbs (1 kg)
Weight pockets
The 16 lb Quick Buckle (QB) Weight Pockets consist of an insert pocket that easily releases when the handle is pulled and a holster that stays securely on the waist belt. Designed for use on the TransPac harness, they can be worn vertically or horizontally with each pocket holding up to 8 lbs of weight securely in position throughout the dive. Simple, top-loading pocket protects divers from an inadvertent buoyancy event by keeping weight securely in place. Worn at an angle on the waist belt for easier access, the right hand pocket is identified by the Dive Rite logo while the left pocket is plain, without a logo. Tall and narrow.
Holds up to 8 lbs (3.6 kg) in each pocket. Right hand pocket has the Dive Rite logo patch. The left hand pocket is plain, without a logo.
1680 denier ballistic nylon fabric is tear and abrasion resistant.
Two-inch (50.8 mm) nylon webbing loops on the back of the pocket slide over a 2-inch webbing waist strap and secure the pocket into place.
Acetyl quick buckle is used to easily secure the pocket in the holster.
Nickel plated brass grommets resist rust and corrosion.
9-in high x 3.5-in wide x 1.5-in deep (22.9 cm x 8.9 cm x 3.8 cm)
12 oz (340.2 g)
Made in the U.S.A.