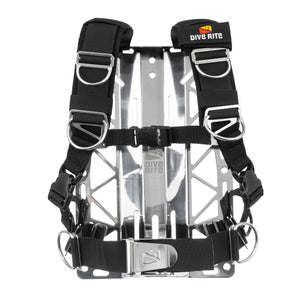 Get the best of both worlds.
A hybrid harness designed for divers who want the support of a backpack-style harness for better weight-load distribution, yet wish to dive a hard metal backplate. Designed like a mountaineer's backpack, the TransPlate harness disperses weight across the hips and back, minimizing shoulder strain. When used with a 6-pound steel backplate, divers can remove or minimize weight pockets. Adjustable straps adapt to a wide variety of exposure suits and means easy donning and doffing. The modular design allows for customization with a wide variety of pockets and accessories.
Note: Stainless steel backplates, XT Lite backplates, and cam straps are sold separately.
Made in USA
Available in sizes Medium through XXL
Shoulder pads constructed of 1000 denier ballistic nylon fabric for tear and abrasion resistance. 2-inch (50 mm) nylon webbing rated at 7,000 lbs breaking strength forms the shoulder straps and waist strap
Four 2-inch D-rings on each shoulder strap are slightly bent for improved access and placement can be adjusted. Note: Size Medium has only one 2-inch D-ring per shoulder strap due to space limitations
Marine Grade 316 stainless steel hardware is used throughout including: (2) bent D-rings on each shoulder strap (except Size Medium that has only one bent D-ring per shoulder) and (2) waist D-rings, XT chest plates, belt buckle, cam strap buckles, and side plates
Shoulder straps feature pivot rings at chest level for comfort, fit, and load distribution
Acetyl resin engineered plastic quick release buckles on shoulders for easy doff and don
1-inch nylon webbing rated at 2,200 lbs breaking strength and a Delrin 1-inch quick release buckle are used for a chest strap
Marine grade stainless steel base plates allow for proper placement of shoulder straps. Plates can be moved forward or backward on the waist strap to get the best fit and performance
Medium: 2 lbs, 7 oz (1.10 kg), Large: 2 lbs, 8 oz (1.16 kg), XL: 2 lbs, 9 oz (1.16 kg), XXL: 3 lbs (1.36 kg)
Features