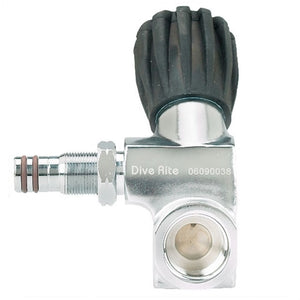 Valve - H Adaptor Right Hand (picture is left hand)
Features
Dive Rite valves are chrome-plated brass for rugged protection and durability. Double o-ring seals provide redundancy as well as better shock absorption. Ribbed rubber handwheels are tough, yet easy to open and close. The right valve paired with the left can be used for independent doubles, a doubles manifold, sidemount, and rebreather cylinders. The valve is modular so divers can use them independently on single tanks, put them together to form an H-valve, or use an isolation bar to build a manifold for double tanks. All Dive Rite valves come standard with 3500 psi (242 bar) working pressure relief disks, built with oxygen compatible o-rings and lubricants, and are Nitrox ready up to 40-percent.
All Dive Rite valves are easily converted between DIN and yoke by using an included DIN to yoke insert. The insert is installed and removed with an 8mm hex key.

3500 psi (242 bar) working pressure
Nitrox ready up to 40%
DIN or yoke compatible with included insert
1.85 lb (.84 kg)
Right valves versus left valves seems to have a lot of divers confused. Training agencies coined the term right "hand" valve, which was meant to imply a valve that can be reached with the right hand when a diver reaches behind their head with the tank on the back. A "left hand" valve was deemed the opposite. Because all Dive Rite valves are modular, we call all valves with a reverse thread on the crossbar plug a "left valve." This is easily identifiable by a notch on the plug. The valves with plugs that are not-notched are "right valves." Most people find it easier just to remember that when facing a Dive Rite valve, if the hand wheel is on the left it is a left valve and if the hand wheel is on the right it is a right valve.