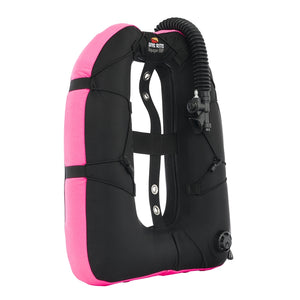 Features
The Voyager EXP falls right in line with our other EXP models, touting a low-profile, donut-shape design. Streamlined side panels and a minimalist, oval shape create a higher-lift wing that remains unobtrusive instead of bulky. Tie-down (taco) tabs are no longer necessary.
With 40lbs/20 kgs lift the Voyager EXP is designed to accommodate up to one 95 ft3/15 L single tank, which is ideal for cold water diving or for the warm water diver who slings a pony or small stage.
Available in black with gray side panels. Made in the U.S.A.
Black outer bag is made of 1680 denier ballistic nylon that resists tears and abrasion

Inner bladder constructed of thick, 15-mil polyether aromatic polyurethane is resistant to abrasion and chemicals, has excellent strength and will resist the growth of microorganisms.

Urethane flanges are welded in place, which make it easy to switch out corrugated hoses and over pressurization valves without tools.

Comes equipped with choice of 16-inch rapid exhaust (pull dump), 16-inch or 12-inch elbow hose along with either 15-inch, 22-inch or 27-inch low pressure inflation hose.

Two sets of two marine-grade 316 stainless steel grommet mounting holes are used to attach wing to harness and/or to double tanks and set diver trim.

Approximate dimensions uninflated: 22-in H x 19-in W (55.9cm x 48.3cm)

2.7lbs (1.22kg)