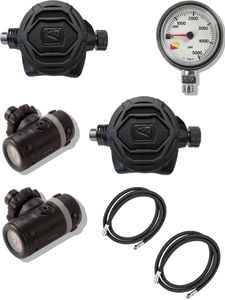 The XT4 Regulator welcomes a new generation of regulator performance at Dive Rite. An elite performer, the XT4's advance, patented design earns top marks from Mike Ward of Dive Lab. With work of breathing at less than 1.0 J/L, the XT4 performs right alongside premier regulators on the market today.
XT4 2nd Stage:
This new premium second stage second stage regulator from Dive Rite provides a low work of breathing and reliable performance in demanding conditions. The reg is compact and weighs about 9 ounces. Trimmed streamlined exhaust tees make the XT4 suitable for sidemount or stage bottle use. An adjustment knob allows for fine-tuning of breathing resistance and pressure, without needing to take apart the second stage. The metal components are coated so there is a long term durability for the life of this regulator.
Second Stage is reversible from left-hand to right-hand. It is also Nitrox ready for up to 40%.
XT1 1st Stage Specs:
Matte black, chrome plated brass
Balanced design
Swivel turret
Five LP ports (3/8-24 UN)
Two HP ports each angled 90 degrees from fitting (7/16-20 UNF/ISO263)
Environmentally sealed
Intermediate pressure: 140 PSI
Available in DIN

 Includes:
2 XT-1 First Stages DIN

2 XT4 Second Stages
84" and 22" LP Hoses
1 Right Angle Adapter
1 SPG with 26" HP Hose
Clips and Necklace
Regulator Bag
Features