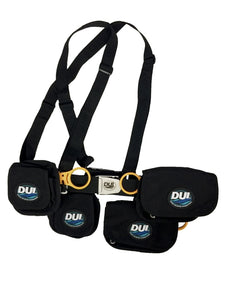 Get the weight off your back and increase your diving comfort with the new and improved DUI Weight and Trim System III.The harness allows you to comfortably wear up to 40 pounds and lets you adjust the weights up and down, forward and back so you can put your weights right where you want them.
Sizes: S, M, L
Available in 6 variations with the choice of Small or Large pockets .
- Small Pockets - 20lb System (10lb on each side) 
- Large Pockets 40lb System ( 20lb on each side)
 Features & Benefits:
Instant Replacement of the weight pocket with our new quick release system.
Weight pods can be installed on any 2" wedding.
New design holds shoulder straps close to the nape of the neck, contouring the harness and keeping the weight distributing comfortably.
Yellow pull handles are easy to spot in low visibility and at night.
Features