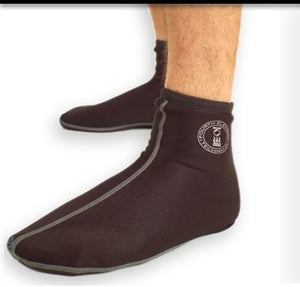 HOTFOOT XXL
Features
WARMTH
A double layer of high insulation materials ensure that these socks provide maximum thermal protection for the feet – one of the first parts of the body to feel the cold. High density fleece combined with water resistant outer fabric creates a comfortable, dry and warm micro-climate for the feet.
FIT
Designed to fit the feet, these socks will stay on when taking off your drysuit, unlike some other drysuit socks.
FUNCTION
The water resistant outer layer ensures that the feet remain drier and more comfortable. Fully machine washable, the inner lining can be pulled out of the foot of the sock so that they can be dried out much faster.
Available sizes: XS, S, M, L, XL