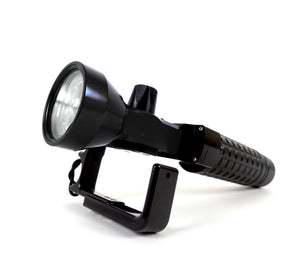 Halcyon Focus 2.0 handheld Lighting System. Compact, adjustable, powerful.
Features
Halcyon Focus 2.0 Lighting System
The Halcyon name has been synonymous with world class underwater lighting systems for nearly 20 years. We released the Focus and Flare lights and then the handheld versions continuing this tradition. Now Halcyon is pleased to announce the latest breakthrough in lighting technology with the release of our Focus 2.0. We are excited to report that our new Focus 2.0 has twice the brightness of our current Focus light. The Focus 2.0 is available in corded models (standard cord or E/O cord), as well as a handheld version. All three versions have a 5.2Ah li-ion battery. We spent a lot of time to find just the right colors to make this light stand out and apart from the traditional Focus light. With the blue body and black accents you will see this light making its way to your favorite dive sites.
Features:
5.2-amp hour Lithium battery pack
approx. 3.0 hours burn time on high
approx. 5.5 hours burn time on low
Focus: ~80,000 LUX at 1m
The adjustable power switch may be set to Off, Low, or High power
Adjustable handle
Unique Blue color