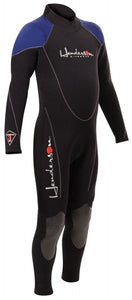 Thermoprene delivers quality and performance a step above our Premium Neoprene, offering 75% more stretch and featuring glued and sewn seams on all suits. All jumpsuits feature integrated spine pads and zipper seals as well as Freedom flex knee pads.
Henderson 3mm Child Back Jumpsuit
Features
Get the features and design benefits of more expensive suits in this economically priced jumpsuit ideal for both local waters and exotic destinations. The Thermoprene Jumpsuit's effectivness is based on a countoured fit that helps keeps water exchange to a minimum combined with a superior grade of neoprene for maximum heat retention. All seams are GBS-glued and blindstitched, which furter prevents water seepage and extends suit life. Creature comforts include Lycra trimmed cuffs, a spinepad and an adjustable collar.
LYCRA® TRIM
GBS-GLUED & BLINDSTITCHED SEAMS
BACK ZIP
SPINEPAD/ZIPPER SEAL
FREEDOM FLEX KNEEPADS