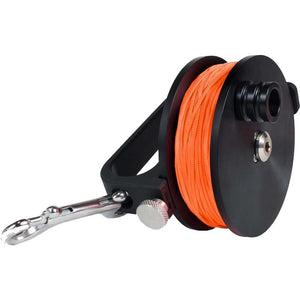 Open Box Display Model
A reliable primary reel is a necessity whether you're discovering a virgin cave or exploring a deep shipwreck. Not only must your reel be dependable, it also must be robust and easy to deploy. The new Hollis Seeker Reels either the 200ft and 400ft primary reels combine simplicity with durability so you can get on with your deepest explorations without any worries about performance. The Hollis Seeker Reels handles on both sizes are machined with 6061-T6 hard anodized aluminum to prevent cracking or breaking. The Hollis Seeker Reels feature rugged high-tensile Delrin® spools that will never warp when fully loaded with line; ultra bright, hi-viz #24 orange line is easily noticed in all low light, and a main bolt design retains the spool and hardware to keep all the components intact.
Hollis Hollis Seeker Reels are designed to be the best performing primary dive reels available.
Hollis Seeker Reels Special Features:
HANDLE WITH EASE
Handles need to withstand getting stepped on and dropped. The Primary Reel is machined with 6061-T6 hard anodized aluminum to prevent cracking or breaking, and is sized for effortless handling while wearing either warm or cold water dry gloves. You can easily and comfortably switch hands when laying your line or reeling up with its side handle that's designed for left- or right-hand operation.
ULTRA BRIGHT HIGH-VIZ ORANGE LINE
White line is difficult to see in open water, but our premium ultra bright high-viz #24 orange nylon line is braided for high visibility in all conditions, and is high-tensile to resists twisting or kinking. Its bright orange color will remain vibrant over time, unlike the washout effect found in other lines.
Hollis Seeker Reels Technical Specifications:
Machined with high-tensile Delrin® for abrasion resistance, extra durability and to eliminate warping.
Lightweight handle machined with durable 6061-T6 hard anodized aluminum
Bright #24 orange nylon braided line for high visibility in all conditions
Easy on/off with 4" double ended bolt snap (with or without gloves)
Robust 316 Stainless hardware
Side handle design for easy left- or right-hand operation
Convenient 200'  length

Knurled Stainless Steel lockdown screw for easy on/off with gloves
Built in rubber stop to prevent backing out of the lockdown and precise adjustment
Molded line stopper included with both models
Convenient winding knob provides easy and comfortable grip with gloves on
Simple one-piece stainless steel hub is controlled by a stainless-steel lockdown screw
Close tolerances to prevent line trapping during heavy use
Sized appropriately for both warm and cold water wearing dry gloves
Easy to switch hands when laying line or reeling up
Radiused edges for comfort
All parts engineered with the strictest tolerances to eliminate line traps or failures when spooling
Features