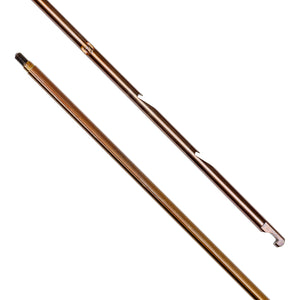 Your best shot is only as good as the shaft you're using. Each JBL Spearshaft is individually hand tuned for straightness in our Oceanside shop before being heated to over 900 degrees Fahrenheit and allowed to cool slowly. By using 17-4 stainless steel and heat treating, our shafts offer unparalleled durability and accuracy.
Not sure which spearshaft goes on your speargun? See our Specs Sheet for correct size and fitment.
OEM Replacement shafts for JBL Magnum and Explorer Series spearguns. These spearshafts feature slide ring stops and notches to be used with bands that have metal wishbones. Each 17-4 stainless steel shaft is hand straightened, tuned, and heat treated. The result is maximum accuracy and hardness. Available in 5/16″ diameter with slide ring stop and 2 – 3 rest notches (depending on model) for use with bands that have metal wishbones.
Features