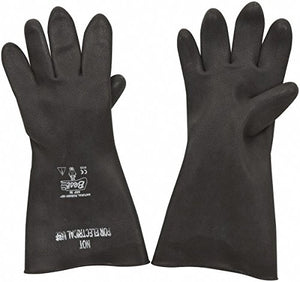 Latex Drysuit Glove "Pull Over"



Features
Latex Drysuit Glove "Pull Over"

The Pull Over Glove is a tough natural rubber glove that provides high quality protection when diving. This black unsupported latex glove has unparalleled 40 mil thickness for excellent puncture, solvent and chemical resistance, and its 15" length extends protection past the wrist. The glove features an embossed finish for a solid grip in wet and oily conditions. Caution: products containing natural rubber latex may cause allergic reactions in some individuals.

15" unsupported latex glove
Black color
Sturdy 40 mil thickness
Embossed finish for solid wet grip
Resists most chemicals, abrasives, and solvents



Measure your hand using a soft tape measure.
If you plan on wearing and insulating layer put that on before measuring.
The larger of the two measurements* should be used as reference for ordering the right size glove.
*All measurements are in inches.