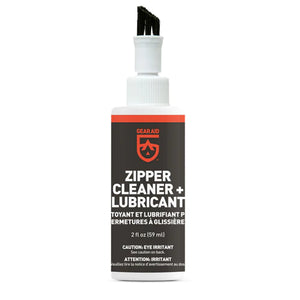 Zip Care Liquid Zipper Cleaner & Lubricant
Zip Care is the ultimate zipper care for plastic, nylon or metal zippers. Unique push-pull brush top enables the cleaner to be delivered between the teeth and physically removes harmful dirt, sand, and salt deposits that can jam the zipper. Available in 2 oz. Blister Pack.
Features
ZIP CARE Directions For Use:
For Wet Suits, Dry Suits, Gear Bags, Protective Clothing & Environmental Suits. Prolong the life of your zippers, using the McNett cleaning and lubricating system.
Zip Care™ is specifically formulated to clean and lubricate plastic, nylon or metal zippers. Patented push/pull brush dispenser removes harmful dirt, sand and salt deposits. Zip Care rinses away after water entry, leaving a unique protective film which lubricates without collecting residue.
DIRECTIONS: Prior to application, unzip garment and use brush, with cap in closed position, to remove sand, mud and other debris. Remove grit from brush before lubricating zipper. Open cap and brush generous amount of Zip Care onto zipper teeth. Reapply regularly, especially before storage periods. Close cap and rinse brush after use.
FOR BEST RESULTS: Use Zip Care in conjunction with Zip Tech™ Max Wax™ Zipper Lubricants.