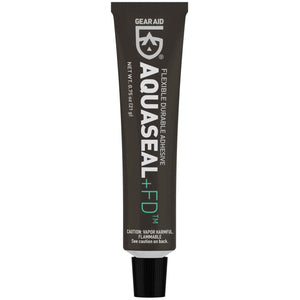 Clean damaged area with Cotol-240™ Cure Accelerator/Precleaner or solvent (paint thinner, nail polish remover or similar).
Trim loose threads. Non-fabric surfaces should be roughened with sandpaper, then cleaned. Apply Aquaseal® to surfaces directly from tube or with knife or flat stick. Keep repair level overnight. Avoid contact with other surfaces.
Most repairs reach full strength overnight (10-14 hours). Allow longer for thickest repairs. For fastest cure (2 hours or less), mix in Cotol-240.
HOLES AND TEARS: Create backing with removable tape. Fill void and 1/4" beyond edge with Aquaseal. Remove tape after full cure.
SEAMS: Apply 1/16" thick bead overlapping seams edges by at least 1/4". Apply with slight pressure to saturate fabric surfaces.
HIGH WEAR AREAS: Apply thin coat with knife for flexible abrasion resistance.
WARNING: FULLY CURED AQUASEAL IS SLIPPERY WHEN WET. For added traction on footwear, sprinkle sand on uncured Aquaseal 1/2 hour after applying.
CLEAN UP: To remove Aquaseal from hands, buff with cloth soaked in paint thinner, nail polish remover or 99% isopropyl alcohol.
STORAGE: Advance contents to tube neck. Wipe clean and cap. Keep in cool, dry place; for extended life, place in freezer. To thaw or for easier-flowing contents, soak tube in warm water for 15 minutes.
Features