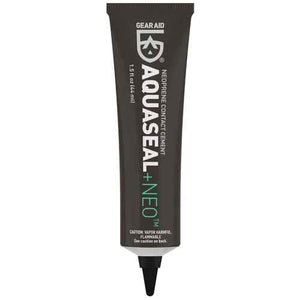 Seal Cement quickly repairs the neoprene in wet suits, dry suits and waders, etc. at home or in the field.
Seal Cement may also be used in the repair and sealing of boots, gloves, fishing waders, orthopedic supports, inflatable toys and hundreds of other rubber articles.
Repairs holes and tears
Waterproofs & seals
Protects against abrasion
Rapid cure for fast in-field repairs
Precision applicator tip
DIRECTIONS
Shake tube well before using. Thoroughly clean and dry entire area for repair. Apply cement on both edges of the repair area with the enclosed applicator brush. Allow this first coat to dry for 5 minutes. Next, apply a second coat to the repair area and allow it to dry for an additional 10 minutes. Press and hold edges of repair together for long lasting repairs.
STORAGE
Advance contents to tube neck and cap securely. To promote longer product life, always store tube in a cool, dry place with the tip end down. Original package blister card may be used for storage.
Features