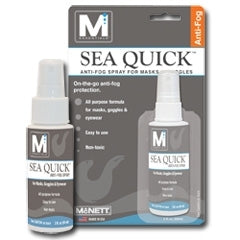 SEAQUICK SPRAY 1/2 oz
Features
Whether you're diving underwater or flying over the snow, you want to see everything around you. Count on Sea Quick™ by M Essentials™ to keep your mask or ski goggles fog free throughout your adventure.
Sea Quick Anti-Fog Spray is the fast way to prevent annoying fog on swim goggles, ski goggles, sunglasses, paintball goggles, face shields and more. One quick spray, buff or rinse, is all it takes for long-lasting anti-fog protection.
Make the most out of your adventures with a crystal clear, properly defogged mask. With Sea Quick Anti-Fog Spray by M Essentials, you'll always see what you're getting into.
For Use On Dive Masks: Spray Sea Quick™ onto each lens surface.
For Use On Other Surfaces, including Sunglasses, Eyewear, Face Shields, Ski Goggles, Hockey Masks, Paintball Goggles, Night Vision Goggles, Binoculars: Before use, to avoid scratches, lens should be free of dirt and debris. Spray onto all lens surfaces. Immediately buff until clear using gentle circular motion with Outgo® Microfiber Cloth or soft lens cloth.