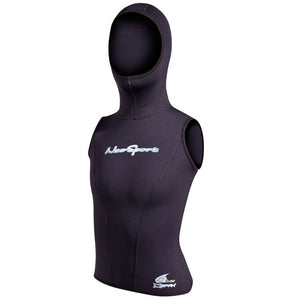 Neosport XSPAN 5/3mm Womens Hooded Vest
Features
Rubber: Exclusive XSPAN material – Ultra Soft and Comfortable – 250% 4-Way Super Stretch foam neoprene.
Fabric Laminate: Each suit is constructed of 100% XSPAN material, unlike other suits which only offer stretch panels or filler gussets.
Construction: All hooded vest are constructed using our proven technique of Double Glued and Blind Stitching all seams inside and out for ultimate in long life and durabliity.
Hoods: NeoSport hooded vest are the most comfortable and best fitting hooded vest in the business, developed and proven with nearly 50 years of manufacturing and patterning experience. All hooded vest feature Henderson's exclusive flow vent to help prevent regulator exhaust from getting trapped in the crown of the hood.
Sizes: 4-14
Technologies: XSPAN Neoprene Material, Glued and Blindstitched Seams, exclusive Flow Vent to minimize ballooning
Available Colors: Black only