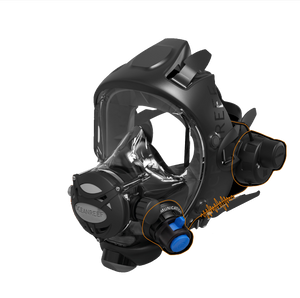 This unit is blending four different OCEAN REEF units into one: the extended range of the Gpower, the like-stereo sound of the GSM SL, the clearness and double channel option of the DC and the battery life of the Gdivers.
Key Features:
It's foldable inside the mask. Now you don't need to assemble the comm unit and take it off the mask. Simply fold it close and pack the IDM.
Brand new rechargeable, changeable battery with an autonomy of approximately 30 hours. No need to purchase disposable batteries to throw away once they are done. No need to purchase batteries before a dive trip. Recharge with a standard micro USB cable from any power source you want.
Digital as the first ever unit we introduced in the market – the DC. This one adds clearer communication, with a higher volume AND 2 earphones for a stereo-like experience.
Double channel unit for separate teams/conversations, depending on the surrounding environment conditions, it exceeds a range of 800ft /250 meters.
DAT (Digital Activation Transmission) – hands-free mode.
Compatible with all prior OCEAN REEF units and competitor units on same frequency.
Easy and solid new PTT button. Also includes the D-mic 2.0 which is now incredibly simple to swap out if needed. Button module doesn't create entanglement and can be operated via a yellow flat, sturdy button and easy lever. As intuitive as you would want it. New Blue Mic on all 2020 units replaces the new D-Mic and increases the clarity of communication significantly.
Voice menu that is clear and immediate to learn, matches perfectly the simplicity of the buttons.
3 level volume.
Features