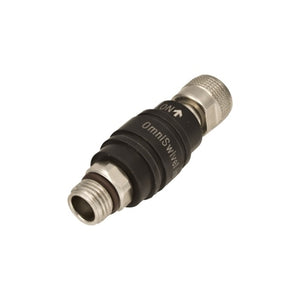 Isolation Valve - Ridge Grip, great for cold water use!
Features
Part Number:

SOV-2
(Designed for Cold Water Use)
Description:

9/16"-18 Male
(Connects to a standard regulator hose)
9/16"-18 Female
(Connects to a
standard regulator)

Dimensions:

3" L x 1"O.D

Using a Shut-off valve can keep a diver
from purging valuable gas from the octopus
during the dive. With a positive locking
design, this shut-off valve can not be
accidentally turned on and off.


Designed to fit between the octopus


regulator and a standard hose.



Delrin Sleeve provides for durable


use as well as oxygen compatible.



Made with 02 compatible

materials