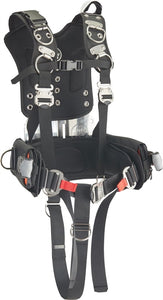 Features
Developed for the specific needs and requirements of Public Safety divers worldwide this new harness for 2018 has it all. Everything from the proprietary SS backplate for different torso lengths and specialized hardware to the lifting strap at the shoulder yoke. Key components are Stainless Steel for durability in extreme conditions.
This Harness is made for the extreme rigors of public safety diving. The rugged design allows for Public Safety, Open Circuit, and Surface Supplied gear to be used. The purpose-built harness is strong enough for the rescuer to be able to perform the task at hand with the potential extra load of the forces of nature.
This system will work with all OMS air cells and it is compatible with the Interspiro Dive System while using the optional rail attachment.
Features
NEW OMS Stainless Steel Backplate (Adjustable to fit Divers 5'5" to 6'10)
Waist Strap includes a quick cinch design for rapid diver deployment
A lift ring is designed into the harness to lift the diver out of the water
QuickRelease Stainless Steel D-Ring
15lb (6.8kg) Capacity per side
2-inch crotch strap with sewn DPV ring included.