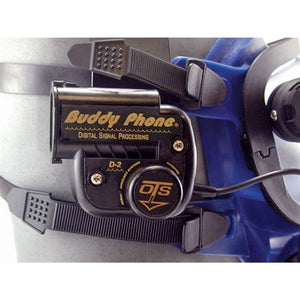 OTS Buddy Phone for Guardian FFM, Hot Mic, 2 Channels w/ Squelch, PTI Control, Adj. Volume
Features
Buddy Phone Through-Water Transceivers (1/2 Watt Output Power)
Using state-of-the-art DSP technology, the new Buddy Phone 2 continues the tradition in providing execellent through-water communications in a compact, affordable platform. It includes voice menus via push-to talk button to control channel, volume, squelch, and a patented Hot Mic or Super Mic.
Voice Menu: When you submerge with a D2 Buddy Phone, you will hear the voice system say "Buddy Phone ON, frequency A (B), channel one (four), volume High (Medium, Low)," depending on the prior dive's settings. Changing a setting is easy and can be done while underwater. Depress the Push-to-talk switch (PTT) three times quickly and hold the third depression until you hear "main menu - volume, channel, continuous transmit." When you hear the main menu selections, simply depress the PTT to select one of the choices. The unit will make the selection and go back to the receive mode. If you don't make a selection after the menu repeats twice, the D2 Buddy Phone goes out of the main selection menu and back to the receive mode (see operators manual for a more detailed explanation -- note: continuous transmit mode allows the user to talk, hands free. This was requested by many movie makers and scientists who talk on camera often).
In all, this D2 Buddy Phone is State-of-the-Art and OTS technology at its best.