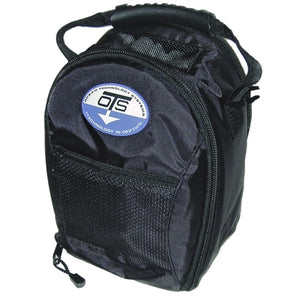 OTS Full Face mask Bag. Fits most Full Face mask.
Features
The OTS designed FFM storage bag protects your FFM, thus extending the life of your gear. It is made of ballistic nylon and features drain holes in the bottom and nylon mesh opening on the top to facilitate drainage and drying after FFM use.
The FFM is normally placed upside down to allow water to drain out of the oral-nasal pocket. The bag is made of 420D nylon, with polypro webbing, corrosion resistant plastic hardware - D-rings, stap hooks, grommets, triglide and zipper sliders, closed cell foam padding, and a shoulder strap with rubberized shoulder pad.