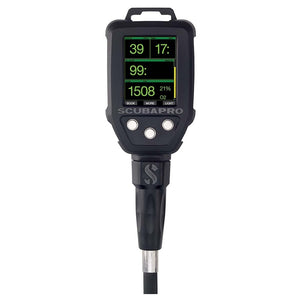 Scubapro G2 Console w/QR Computer
Features
Cell phone-style screen is very familiar and easy to read at depth. Simple 3-button control system and diver-friendly functions make the G2C extremely easy to use.
Full-color TFT (Thin-Film Transistor) 2.2in/5.6cm dot matrix display LCD screen (320x240p) delivers vibrant colors for maximum readability.
Customize your data presentation with Light, Classic, Full or Graphical screen options to suit your individual style. You can also customize the menu listings – utilize as much or as little technology as you need – your choice.
Convenient quick-disconnect fitting allows you to detach the computer from your regulator system for easy data downloading, travel and storage.
Predictive Multi-Gas ZHL-16 ADT MB algorithm programs up to 8 nitrox/trimix mixes to handle any recreational or technical diving scenario.
Algorithm calculates true remaining bottom time (RBT), offers a series of Microbubble levels and incorporates Profile Dependent Intermediate Stops. (Maximum operating depth. 394ft/120m.)
Rechargeable battery provides up to 50 hours of dive time per charge. Battery must be changed by the dealer.
Huge 485MB memory stores pictures, tables, tissue loading status, and 1,000 hours of dive profiles.
USB cable or Bluetooth Low Energy interface lets you easily download dive data wirelessly to your phone or handheld device. Download dive data to a PC/Mac using LogTRAK software.
Fiberglass-reinforced thermoplastic casing is ultra-durable & UV resistant. Rugged skeleton-form casing boot protects against bumps. Also includes hose protection to safeguard the quick-disconnect fitting.
Modes: Scuba, Gauge and Trimix. The Trimix mode is disabled from the factory. Activation is easy – no downloading or upgrading is required.
Number of Gases
8
Gas Capability
21-100% Nitrox, Trimix
Algorithm
ZH-L16 ADT MB PMG
Operating Modes
Scuba, Gauge
Display Type
Color
Max Operating Depth
120m
Memory Capacity
485MB
Depth Rating
120m
Battery Replacement Type
Dealer Replaceable
Estimated Battery Life
Up to 50 Hours Per Charge