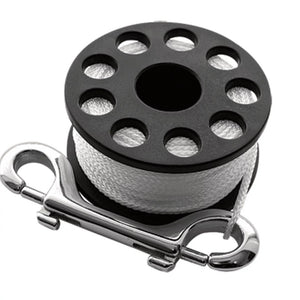 This convenient finger reel is perfect for light-duty dive jobs. Lightweight and ultra-compact, it can be easily stowed in a BCD pocket.



A handy accessory for short-distance exploring or attaching to surface marker buoys.
Made of lightweight and durable Delrin.
Comes with 100ft/30.5m of 0.6in/1.5mm polyester line.
Includes a stainless steel double-end snap bolt for clipping onto D-rings or other attachment points.

Length of Line     100 ft
Marketing Product Type - Accessories     Other, Technical
Product Weight     0.4 lb
Activity     Recreational
UPC     4048336368285



Features