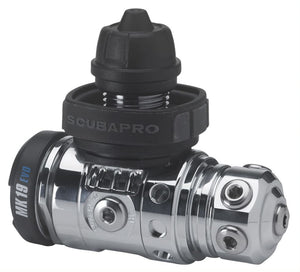 MK19 EVO is designed to be the ultimate first stage for cold water or contaminated diving conditions.
Ideal first stage for avid recreational, technical, professional and military divers.
Latest design makes it substantially smaller and lighter than the original MK19.
Air-balanced first stage diaphragm delivers constant and effortless airflow unaffected by depth, tank pressure, or breathing rate.
Environmentally sealed system prevents water and pollutants from fouling the inner mechanism and is extremely resistant to freezing.
New dry chamber is equipped with a double spring making it more compact and reliable.
Two opposing high pressure ports allow the first stage to be positioned either up or down, plus provide for an optimum hose/transmitter layout.
Swivel turret comes with four High-Flow LP ports plus one axial Super High-Flow LP port to maximize hose routing options for technical diving layouts.
CE certified according the latest EN250A European Standards for all diving conditions, including extreme cold water.
Features