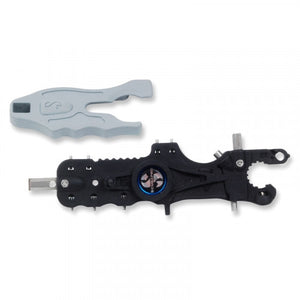 This combination spline, cap, and pin spanner tool does it all. It is designed for both the repair bench and travel tool kit.
The hose spline wrench slides firmly over Scubapro swivel hose ends and will not mar the chrome finish, even with repeated use.
The crescent shaped cuts in the sides of the Multi-Tool form first stage cap wrenches. They are machined in two different diameters and will fit all Scubapro® first stages.
Two pin spanners positioned on either side of the Multi-Tool fit most Scubapro first and second stage caps and plugs.
Made of high impact machined plastic with just about everything you will need to remove a first stage plug, tighten a low pressure hose to a regulator, loosen a BCD hose and much more!
Features