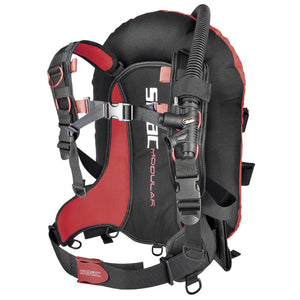 Seac® Modular is the new rear-bladder BCD from Seac® designed for the most demanding divers looking a modular BCD to use in their various diving adventures. Start with a sturdy harness featuring a steel core in the soft backpack as your basis when customizing your Seac® Modular. Then you can add and replace the various parts of the BCD on your own. .
Seac® MODULAR TECHNICAL SPECIFICATIONS

HARNESS
Cordura 1000 denier fabric and 3D mesh.
Shoulder straps with Frame-to-Back fastening system.
D-ring and belly buckle in anodized aluminum.
Two trim pockets for weights up to 2 kg with a Velcro flap for quick release.
Removable crotch strap.
BLADDER
Donut bladder in Cordura 1000 denier fabric.
Air chamber in 400-micron polyurethane.
Piston inflator
31.5 LB lift
Weight: 3 kg
One size
Seac® ACCESSORIES
- Multipurpose pocket for accessories and weights in 1680 denier ballistic Nylon with zipper, universal eyelets for fastening your BCD knife, and Velcro flap for quick-release of weights (up to 4 kg)
- Trim pockets for weights up to 2 kg with Velcro flap for quick release
- Q&S (Quick&Safe) quick-release pocket for integrated weights up to 6 kg, and universal eyelets for fastening a BCD knife
- Aluminum backpack
Features