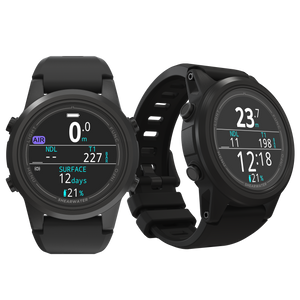 Shearwater Research Inc. is proud to announce the latest additions to its iconic line of dive computers.
Designed with the sport diver in mind, the new Tern & Tern TX models are powerful, simple, reliable, and the most compact dive computers we have ever brought to market. The range includes the Shearwater Tern and the enhanced Tern TX, which boasts transmitter-enabled diving, capable of connecting with up to four Swift gas pressure transmitters and includes a digital compass for superior underwater navigation.
With a watch-style form factor, the 1.3" diameter AMOLED screen provides crystal-clear visibility in a variety of lighting conditions, making it easier than ever for divers to keep track of their crucial information. The vibrant, best in class high-resolution display offers Shearwater's renowned user interface that provides divers with at-a-glance access to vital data, ensuring a safer and more enjoyable diving experience.
"Building upon the success of the Peregrine and borrowing features from the Teric, the Tern and Tern TX make a great addition to our product line. The Tern is an affordable option for anyone seeking a compact sport diving computer." Said Jason Leggatt, CEO of Shearwater Research Inc. "As well, we are excited to bring transmitter-enabled computers to more divers, delivering precision gas pressure information on a brilliant display. The Tern TX is an incredible sport diving computer to those seeking a comfortable, round form. In combination with the Swift Transmitter, the Tern TX offers a world-class transmitter-enabled system at an attractive price".
Designed and built in Canada, The Tern & Tern TX are depth rated to 120 metres and tested to engineering EN standards for dive computer compliance. Tern and Tern TX support Air, Nitrox, 3 Gas Nitrox, Gauge, and Freedive modes.
Available with all-new Shearwater Remora™ quick connect bands, divers can easily switch between long and short straps, or the colour strap of their choice.
Features