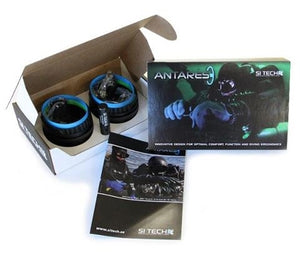 Antares Dry Glove System w/ Silflex Seals
Features
The most slim and comfortable Dry Glove System ever fielded!
ANTARES is a follow up of the oval Modular Quick Change Solution QCS Oval and is designed with oval rings with minimal volume and ergonomic design. This gives the diver a slim, comfortable and ergonomic Dry Glove System. The design follows the arm, wrist and hand anatomy and the system feels like a natural component on the drysuit.
Complete system including PU Rings, oval Stiff rings, wrist seals, oval Glove rings, oval Spanner rings and 1 Pair large SilFlex silicone Seals.