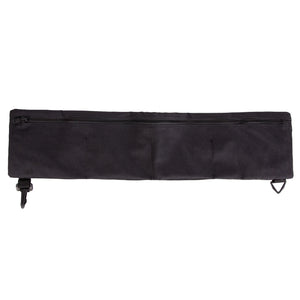 Weight belt featuring permanently mounted pocket sleeve
Sleeve is compartmentalized to hold weights securely
Single, end to end zipper closure, mesh construction for fast draining and drying
Swiveling gate clip and down hanging triangle loop attachment points
Quick release buckle
The Trident 4 Pocket Mesh Zippered Dive Weight Belt, 20 lb Capacity is perfect for the experienced diver who knows in advance how much weight is needed to achieve and maintain optimal trim at depth. 
Adjustable nylon webbing belt features a 24.5 x 6 inch (62.23 x 15.24cm) compartmentalized mesh sleeve that's designed to be loaded before the dive. Single, sturdy zip closure offers easy access to all of the included four pockets in the sleeve.
The compartments can accommodate a total of 20 lbs. Mesh construction means the belt drains and dries quickly. Cleans up with a fresh water rinse.
Includes one swiveling gate clip attachment point and one down-hanging triangle loop attachment point. Quick release buckle makes it easy to dump the entire belt in an emergency situation.
Features