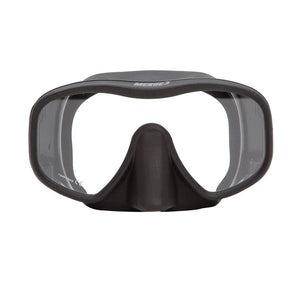 Frameless masks continue to surge in sales and popularity because they are lighter weight and so streamlined. Eliminating the mask frame allows the front lens to move closer to the face providing an excellent peripheral view. The Merge 3's popularity is due to its ability to fit so many faces.
The buckles swivel for optimal fit and comfort

The wide strap is comfortable and stays put on the back of the head

Direct bonding of silicone to the tempered glass, thereby eliminating an external frame

Made of hypoallergenic silicone for comfort and longevity

The Blue model is clear silicone with blue buckle plates
New masks, packaging damaged or repacked.
Features